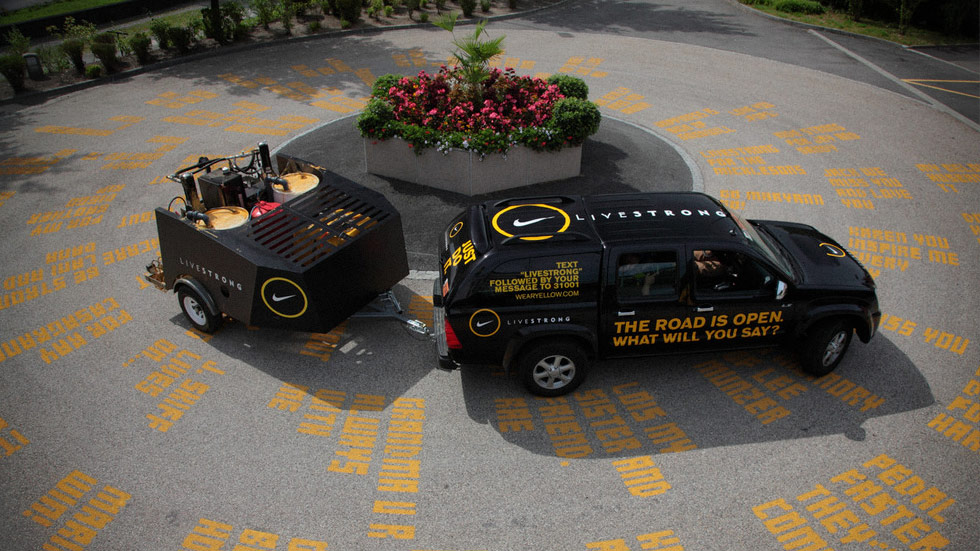 livestrong chalkbot
interactive banners + campaign
Chalking the roads is a Tour de France tradition. Spectators write messages of encouragement to their favorite riders. Outside of the Tour, LIVESTRONG and the Lance Armstrong Foundation have embraced the idea of using the roads as a huge canvas, encouraging people to chalk messages of hope in the fight against cancer.
The Nike Chalkbot was a way to take this positive message even further. It brought the roads of France to everyone. By sending a message to the Chalkbot through SMS, web banners, Twitter or WearYellow.com, people around the world were able to make their mark in yellow.
Over the course of a month, the Chalkbot gained over 4,000 followers on Twitter, received over 36,000 messages and printed thousands of them over 13 stages of the Tour de France while driving several thousand miles during the 25-day event.
I was responsible for the design of the banners for this campaign. We wanted to bring the functionality of sending messages directly to Chalkbot into a Flash banner. We also wanted to integrate the It's About You portion of the campaign in the banners to really send home that Lance was doing this final race for cancer awareness. Employing rich media we were able to maximize the campaign and bring greater awareness to the It's About You campaign.
Chalkbot was built in an effort to allow the entire world to become a part of the Tour de France through the internet.